John Lefler "Shoutfire" EP
Dashboard Confessional's lead guitarist returns after his solid debut LP with a more commercial, slicker adult contemporary effort.The ringing guitar chords from the title track remind one of Crowded House or even Toad The Wet Sprocket.
The light strums of "The Good Life" are soothing, and the next track "Shelter In Place" has a killer rhythm that just sticks in your head. Then the tracks just get sparser, more personal, my favorite here is "Broken People" where John's voice carries the lyrical story about emotional fragility with perfect pitch. Another winner, you shouldn't miss.
John Lefler-Shout Fire.
Dashboard Confessional's lead guitarist is back with his second solo outing after 2009's excellent Better by Design, which placed at #15 on my 09 year-end list. Shout Fire picks up where the full-length left off in the quality department, beginning with the outstanding title track, a driving slice of power pop with enough commercial sheen to have been a lost 80s hit. "The Good Life" is a beautiful Neil Finn-esque ballad, while "Shelter in Place" recalls The Gin Blossoms. All six tracks in fact have their merits, and Lefler should be near the top my year-end EP list this time around.
John Lefler might be better known as a member of Dashboard Confessional, but he has built a pretty impressive catalog as a Dallas-based solo artist. With the recently released six-song EP Shoutfire, Lefler shared with us some of his musical firsts.
What was the first instrument you learned to play?
First instrument that I got was a Peavy T-60, which I think is an odd-looking, almost ugly guitar. My dad got in a pawn shop in Edmond, Oklahoma, because my older brother decided he was going to play the drums after "Sister Christian" came out. I'm like, in third grade or whenever that came out. So I got the guitar, a Peavey amp, and it sits there. It was always around until gradually you pick it up and make some noise. It went like, basketball, baseball, and then, all of a sudden, none of that existed anymore. It was The Police, U2, even Living Colour. It's like learning a language; if you do it when you're young, you have the time to sit there and practice all day long. I feel bad for adults learning an instrument now. I couldn't do it. It's interesting, my older brother, he was an all-state jazz drummer. Went to Berklee. Just a really great musician, which was inspiring and somewhat impressive for me. So it wasn't until he left for college in 1990 that I decided to be the musician of the house. I kinda took it from there.
What was the first cassette you bought?
Men At Work, Cargo. It was the first time I got an allowance. It had "Overkill." In those days, you only know the songs you like, then the last five seconds of the song before it.
Oh yeah, I did that with a lot of U2 records back then.
It's funny, the Toto IV record, the one with "Rosanna" and "Africa" on it -- they made the mistake of putting "Rosanna" on the first side of the record and the last song on the second side was "Africa." So you'd play "Rosanna," flip it and play "Africa." I bet you no one has heard the rest of the record, to this day. Maybe until it came out on CD.
Well, it's easier on vinyl or CD.
I don't have any great story about why Men At Work. I think "Overkill" was a big song and I really liked it. Little bit darker, somehow. I think I still have that.
What was the first single you bought?
I remember saving up for Survivor's "Eye of the Tiger." I remember thinking it was the most amazing cover ever. Because it was just a three-colored tiger roaring.
What do you remember about the first time you played in front of people?
Let me think. You mean playing piano recitals or band stuff?
Band stuff.
The first band, I was a sophomore in high school, because they always had the talent show. That was when my older brothers started moshing. In 1990, they outlawed the talent show. So we didn't have it in my time in high school. We were relegated to pep rallies. We had a deep baritone singer because the music was popular, like Alice in Chains. I don't think we even had a name. They introduced us as the Dulles High School band at the pep rally. We played "Man in the Box," plus some of the songs off the Singles soundtrack. So bad. We'd play the few ones that they knew and then we'd play U2 and Police songs, terribly, with a baritone singer.
Anything really stick out from the first proper show you played with that band?
I remember we were doing "With Or Without You" by U2. The singer couldn't remember the words, so he took a piece of paper, wrote the lyrics down, and didn't want to sit there and hold it. He took a booger out of his nose and stuck it on the mic stand. It was a windy day and we start the song and the paper blows off. He sings all the right lyrics, but to "One." Being the boss, I fired him instantly. The world's at stake when you're that age. No one would have known the difference. Bono might have known the difference.
You were doing a live mash-up.
Yeah, we kind of invented that. You get so mad. Looking back, you wished more stuff happened like that. Being a perfectionist kinda takes the fun out of it.
Speaking of an aspect of being a perfectionist, how did you respond when you first heard your singing voice?
Oh, it's so bad. I don't think I'm a very good singer anyways. You like the character of it and enjoy the music and that's enough, but I don't even entertain the thought of being a singer. At least I can perform a song at this point in my life. After I fired the booger singer guy, I started singing. All the grunge stuff went out the window. We did all Sting, The Police, and U2 - stuff we shouldn't have been doing in 1990. We weren't a popular band. Some people have natural voices. I was not one of those. My voice sounded like Keanu Reeves trying to be dramatic in the "Rush, Rush" video. Maybe since it started so poorly, I can at least chart some improvement.
Over the years, I've sung live in front of people. Actually, the first time I played in front of people, I sang. But I prefer to play the drums in a band situation. I have recorded my own stuff where I play all the instruments and sing. Recently, I recorded some stuff with a friend of mine who wanted to test out some new recording equipment. I can completely vouch for the drumming and guitar playing, but when it comes to the vocals, it's very uncomfortable to listen to. It helped that my friend was a singer as well. He said, "Eric, I hate my voice as well, so don't worry about it."
I know what you mean! Like, we would do five, ten-minute instrumental jams on each of the songs. That was the style where you'd have to solo and do this or that. Now I'm glad that we did those. Anything without singing is alright. It sounds like a garage band.
Anything pop out about the first show you played with Dashboard Confessional?
I don't remember the exact show, but it was April 2002. Meeting a band mid-tour, it was like that jump rope game, where it's in progress and they're not going to slow down for you. You have to catch up and I had to learn the songs on my time. Less than two weeks after I did my first show with them, we did the MTV Unplugged show. We had this hour and 45 minute set, which they edited down to an hour. Learning all these songs in D, E, open tunings. I had all this information in my head. I go there knowing I can play guitar, piano, and luckily, this was before I sang with the band. It was so bizarre; you grow up watching Unplugged and suddenly you're on it. And you're like, "Please don't let me make a mistake." In two hours of songs, I made one little mistake, but I think I only know where it was.
Do you recall the first time you heard a Dashboard song on the radio or saw it on MTV?
I was in the band the first time I heard a Dashboard song on the radio. When I got the record, I got Swiss Army Romance instead of The Places You Have Come to Fear the Most, which was the tour I joined on. I was replacing the guitarist who left to play with Ben Kweller. I had the record, was learning it on the airplane. The reason why I got the job was because I showed up and did a good job. Basically I said yes. There was no audition. I showed up and didn't screw up. I got to know the catalog. I remember hearing "Screaming Infidelities" a lot on KROQ in L.A. So, around 2002, that summer, I can tell you all the videos that were on MTV2. That was when it was John Mayer's "No Such Thing" and stuff like that. When I'd be home from tour, I'd watch it to see if the video came on because I had never seen it.
What brought you to Dallas?
Salim Nourallah brought me to Dallas. He was on tour with Rhett Miller. I was stoked when Rhett opened for us and Salim and we became really good friends. Maybe a year or two later, I was between either moving to Milwaukee or moving here. Ultimately, I'm from Texas, but I've never lived in Dallas. So Salim's like, "I've got a studio, you can record here, you can play on other people's stuff. It's cheap here. I'll show you where to live." I needed to get out of L.A. I was like, "Absolutely!" I just took a chance and that's all there is to it, really. Salim and I are still really good friends. That first album, Better By Design, I did in his studio. I've recorded on dozens of people's records there.
What do you remember about the first time that you played here as a solo act?
I think my first one was at The Prophet Bar. People came to see if I could set up my amplifier or tune my own guitar, just snide comments like that. An early show we did was at the Granada, which we shouldn't have done. It was too early. Salim took me under his wing as far as performing and it was very helpful, introducing me to club owners and getting me as an opener for him at his shows, whether it was Opening Bell Mosaic or somewhere in Fort Worth. The first record is very involved, instrumentally. A lot of musicians on it. Then you go play it by yourself, you don't know how to do it yet. It's like a learning curve.
There was only one situation in Fort Worth where they had advertised it as Dashboard was playing. That's only happened once. The guy tried to get kids off the street, so these ten kids came in, all excited. Having a good time, waiting for me to play Dashboard songs. And so I said, "I'm not going to do that. First of all, I don't know all the words. Definitely not going to be able to sing them because they're not in my range. That's not what I'm here to do." I made them give all their money back to the kids that came in. Ever since then, I've been very clear about a distinction.

Interview: John Lefler (Dallas)
Tuesday, April 24th, head out up Willy Street to Mickey's Tavern. Alas it won't be for brunch, however the consolation will be an evening of music from a guitarist from a surprisingly huge band. That's the charm of Mickey's really. Along with Milwaukee musician Mark Waldoch (of The Celebrated Workingman), John Lefler will be performing songs off his efforts outside of being the guitarist for Dashboard Confessional since 2005. The sets start at 10:00PM.
First off, I hear you play shortstop in Dallas in softball. With baseball season just started, favorite player of all time and why?
My favorite baseball player of all time is Mike Scott, who pitched for the Houston Astros in the latter half of the 1980′s. In 1986 he was easily the most dominant pitcher in sports, and therefore was accused of cheating by 'scuffing' the baseball. Also, he looked identical to my father, who used to sign, "Mike Scott," autographs at my swim meets growing up. I'll bet that in the Houston area there are still dozens of grown men who believe they met the 1986 NL Cy Young winner and NLCS MVP.
Switching from performing in Dashboard Confessional to doing a Midwest tour solo must give a sense of "going back to the roots." What has touring solo taught you when you tour with Dashboard? And what has touring with Dashboard taught you about touring solo?
I've been touring solo as, "John Lefler," since my first album came out in 2009. It doesn't feel like 'getting back to roots' because I had never toured alone prior. It never occurred to me, so I guess I learned that from Dashboard. Words like, "baggage fees," "free Internet," and, "one way rental," never existed to me with Dashboard. Now, stuff like that is all I think about. I've become terribly boring.
How did you and Mark Waldoch of The Celebrated Workingman first meet? What clicked and made you want to tour with him this time around?
I met Mark through my best friend (and Dashboard bassist), Scott Schoenbeck. He has a wild and woolly circle of friends in Milwaukee that I hang with every time I'm in town. Mark, who is a great musician, bar tends at our favorite spot. We've gradually become good buds over the years. With Dashboard I toured with so many bands that I never really hung out with, or had much in common with. Now, it's important to me to travel and play with my friends. Since we don't make any money, we might as well laugh while we're doing it.
Do you still play the piano with seven fingers and two thumbs? (Reminds me of Django Reinhardt, minus the caravan fire that left him to perform with less than all 10 digits.)
Yes, although these days I tend to play the piano with my fists more than anything. I find it's the easiest way to be heard in rowdy Midwestern bars. Also, Django Reinhardt would be horrified if any of my playing was ever compared to his (regardless of the instrument). I prefer the comparison to Mordecai "Three Finger" Brown (in honor of baseball season).
You have your "Shout Fire EP" available on the tour, especially at Mickey's Tavern. What's one song that stands out personally for you and the story behind it?
One interesting back story is for the song, "Shelter In Place." It was an expression that I heard my geologist father use in reference to a chemical leak in the Houston area. A, "Shelter In Place," warning is issued during any chemical accident, or terrorist situation, where something toxic has been released into the atmosphere. It calls for you and everyone in your household to seal the windows and doors, cover the vents, and wait for further notice. It's a short term solution for a disaster. I thought it was a good metaphor for how people trap themselves in terrible relationships for the smallest, most transient of reasons. The song (and the EP) kind of took off from that point.
Where does the title of the EP come from?
The song and EP title come from the expression, "shout fire in a crowded theater." It's about using fear to achieve your own person agenda. The EP has a somewhat frenetic, nervous feel to it. The title seemed to convey that.
What does the rest of 2012 have in store for you?
Honestly, I have no idea. Likely, it will be more of the same. I'm hoping that this EP will catch on somewhere, or perhaps lead me to something. At the very least I need to hit the East Coast later in the Summer.
What's something about Wisconsin (or Madison) that, touring through the years, makes you excited to come back? What would you do if you had a day entirely free here?
When I think of Wisconsin, I think of two things: Scott Schoenbeck and beer. Wisconsin has the best bar culture of anywhere I've been – and frankly, some of the most reverence for rock music. If we were millionaires, we would just sit on bar stools in Milwaukee, hanging out all day, every day. I actually have a day off there after the Madison show, if anyone cares to join us…
CD of the Day, 6/18/09: John Lefler-Better by Design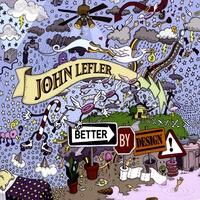 It often seems like every indie band has a sideman who's a power popper at heart, and behind the emo stylings of Chris Carrabba and Dashboard Confessional lies DC's guitarist/pianist John Lefler, who's put out one of the more impressive power pop debuts with his solo album Better by Design and has an instant contender for album of the year here.

Lefler touches all the power pop buttons here. "Dream Your Life Away" opens the disc with a Jellyfish-inspired track that could have come off Spilt Milk, with its British invasion melody, staccato guitar riffs and snare drums, all delivered with a certain joie de vivre that a power pop fan can almost innately pick up. There's no dropoff next with the title track, with its insistent piano beat and McCartney-esque melody, and the sweet and jangly "Lucy" is 2:16 of pure ear candy.

An opening trio like that is hard to follow, but Lefler hangs in there with several more gems. The midtempo rocker "Afraid Anymore" recalls both Fountains of Wayne and Cliff Hillis, "Hard Act to Follow" (hey, didn't I just use that phrase?) is another 'Fish-styled number with a quality guitar solo, and "Helplessly" is a pretty ballad that does a fine job of letting the listening catch his or her breath.

The latter portion of the disc is rounded out with the file Sloan-styled "Better Than You", the bright rocker "Ordinary Guy", complete with "oh-oh-oh"s and a Matthew Sweet/Gin Blossoms sound, and the dreamy Lennonesque closer "Up My Sleeve". A stunning debut from Mr. Lefler, and one I can see in a lot of power poppers' top 10 lists come year's end.
John Lefler spent the last seven years playing guitar/keys in the band Dashboard Confessional. But with a handful of friends somehow had time to create this finely crafted pop album. The album gets off to great start with "Dream Your Life Away" which has flowing melody lines and pounding piano similar to Sun Sawed In Half and Jellyfish. The title track follows with an ELO-styled bridge and it's steady beat will automatically put a little bounce in your step. "Lucy" is transitional song that leans toward a softer styled jangle pop. The rest of the album can't quite keep up with those superb opening tracks, but the mid tempo "Afraid Anymore" and the excellent piano guitar interplay of "Hard Act To Follow" will hold your interest for sure. The latter album tracks "Start Me Over" and "Helplessly" remind me of The Rembrandts (okay, maybe Danny Wilde solo). But the album does not lose it's footing, and gives us a Rooney-esque guitar and melody on "Better Than You" which leads us to the punchy "Ordinary Guy." Even the ending ballad "Up My Sleeve" has a sweet multi-dubbed harmony that recalls John Lennon. For most power pop fans, this will be more than enough to put it on their "must have" list. Overall, a great debut and I hope we hear more from Mr. Lefler in the future.
By day, John Lefler makes his beans as guitarist/keyboardist in indie darlings Dashboard Confessional. After hours, his "inner popper" emerges, and he's busy creating some of the sweetest pop you'll ever want to hear! His solo debut was expertly produced by Salim Nourallah (certainly no stranger to folks here), who is quickly becoming one of our favorite producers (Old 97's, Rhett Miller, et al)! This one's solid from start to finish - there's not a bad tune in the batch here folks!


Catching up with John Lefler
Dashboard guitarist and local singer-songwriter checks in from the road
Wednesday, August 4, 2010
By Collin Quick
Twenty-eight dollars was all Dashboard Confessional guitarist John Lefler took in from his recent solo show in Chicago.

And he's fine with that.

"This tour is not about making money for me. It's an investment," Lefler told us in an interview from the road. "Some shows have been relatively lucrative, but most have not."

Lefler, an East Dallas resident, has been on the road promoting his 2009 release Better by Design since the end of June. This time around, it's not all tour buses and catering.

He's renting cars, catching flights and crashing with friends as he makes his way from city to city.

"The name 'Dashboard' might get me a reply from a club, but beyond that, I'm just a dude in tight pants with a guitar," he said.

We talked to Lefler, whose adventure ends Saturday with a homecoming show at Opening Bell Coffee, about touring, tweeting and coming home.

Q: How's the tour going?

Lefler: It has been a great experience for me. Honestly, there is no other way I'd rather be spending my time this summer. My goal was to get out of my comfort zone – Dallas, my couch – and try and play every night in a different city. Since I've been doing the booking myself, it has been a challenge. But I'm pretty happy with the results so far. Just getting out and doing it was my No. 1 goal.

Q: How is touring solo different from being on the road with Dashboard Confessional?

Lefler: I think the better question would be "How is it similar?" The answer would be, "Not at all." The only thing this tour has in common with a Dashboard tour is the fact that I wear the same pair of pants. On my solo tour, I wake up and worry about rental car prices, hotel rates, flight times, drive times, where I will sleep, how many people will actually show up. On a Dashboard tour, I wake up and walk on stage.

Q: You tweet and Facebook with fans. Do you think interacting on social media benefits you in the long run?

Lefler: Absolutely. A new artist has to be approachable. I'm a 35-year-old male playing an archaic form of music – one that involves writing a song. I'm happy that I can sit at my laptop at night to try and promote myself and my shows. Most of the people who write me on Facebook are super sweet and encouraging. What's not to love about that?

Q: Are you looking forward to coming back to Dallas?

Lefler: I'm totally looking forward to being home. I set this show up as a sort of homecoming or an end-of-tour bash. In Dallas, I always play with Paul Averitt of Hard Night's Day accompanying me. He's one of the best, so I don't worry about him not being able to follow me.
Holiday Memories Q&A with John Lefler
November 11, 2012
0
Originally hailing from Sugar Land, TX, John Lefler is a performing songwriter based in Dallas, TX. He's been performing guitar and keys in the band, Dashboard Confessional, since 2002 and he's also promoting his sophomore solo release, Shout Fire. John took some time to tell me about his holidays traditions and what's coming up for the new year. As we get into this hilarious short interview, enjoy the video for the single, "Shout Fire".
JW: What your family/friends tradition for holidays at the end of the year? If you don't have a tradition, what was one of your most memorable and fun holiday gatherings (around that same time)?
JL: In my family, we each buy ourselves our own presents, and then, huddled around the fireplace on Christmas afternoon, we exchange personal checks for the equivalent amounts. It's a most magical time of year.
JW: Name a quintessential holiday recording for this time year and tell why
that such a special project for you/your family?
JL: As teenagers, my brothers and I would write and record our own holiday music – which would ultimately become our Mother's Christmas gift. Off the top of my head, I can recall three specifically: "Liberace's Christmas," which was a musical written about holiday party given by Liberace in Las Vegas, "A Nashville Christmas:" a country-flavored collection of holiday favorites, sung by Elvis & various other "country" greats, and, "Mom's Symphony:" a twenty-minute medley spun from all the songs our Mother used to make up for our bedtime songs. Very cute, though all were probably a distant second to Mannheim Steamroller, as far as air time goes…
JW: Any new books/e-books or films that you're looking forward this holiday?
JL: Christmas is the time of year when I hope to receive all the things that I am too cheap to buy for myself. Boxed sets are usually included on this list. This year, I am eying Peter Gabriel's re-mastered, "So," boxed set. I think it actually includes unreleased nude photos.
JW: Looking back through this year, what were some of your favorite performances of your own music?
JL: It's hard to pinpoint a favorite show in 2012. I've lost so much money at all of them! How could I choose? Thinking about it, I can say that 2012 is the year that I learned to appreciate the venues in my town, Dallas, a bit more. Let's hope that in 2013 they will begin to appreciate me.
JW: What's on tap for you in the first three months of 2013?
JL: I've just recently finished two live performance videos for my songs, "Shout Fire," and, "The Good Life." Hopefully, in 2013 more people will actually view and enjoy them. Also, in January I am scheduled to shoot a concept video for, "Shout Fire," involving puppets.